Rose returns to haunt heroic Sidley
(April 04, 2011)
---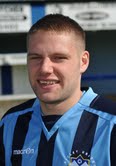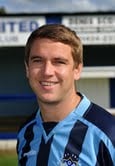 Sidley United aganisingly conceded a 92nd minute goal to draw 2 - 2 at home to Rye United.
The Blues took the lead in the first half when Liam Miles delightfully lobbed Josh Pelling in the Rye goal and Sidley were in control when Matt Dadswell scrambled home a long Dan Spice free kick for a 2 - 0 lead with 20 minutes to go.
But the game turned when the referee missed a Rye handball, and within 20 seconds they had the ball in the net. They pressed hard and Sidley were defending resolutely but it was broken in the 92nd minute when ex Sidley legend Kevin Rose popped up and headed beyond Gavin Bourne.
A fantastic game of football and a truly excellent performance from the Blues, once again demonstrating the spirit that makes this club so great.
Sidley Team: Bourne, Chandler (Elliott-Noye), Rea, Jules, Spice, Cody, Bird, Brand, Dadswell (Aston), Miles (Styles), Barden.