Sidley win crazy game at Shoreham
(October 01, 2011)
---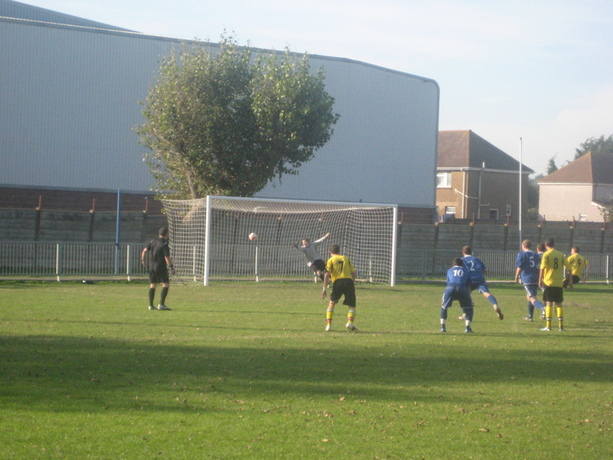 Hole scores from the spot with the first goal of the game
Sidley United won 4 - 3 against struggling Shoreham in a bizarre match.
Blues should have been out of it in the first half as Shoreham twice hit the bar and also missed a penalty - Josh Willis turning it over for a corner. Shoreham felt doubly aggrieved as they had put the ball in the back of the net but the referee pulled them back for the penalty.
After half time, Sidley went in front against the run of play through a penalty of their own for handball. Lewis Hole converted. But Shoreham came again and were level 3 minutes later, Dan Cruikshank failing to clear and Shoreham slotted home. 5 minutes later they went in front after some slack marking by Sidley.
Out of the blue, Jason Taylor equalised for Sidley with his shot going in off the post on 71 minutes and four minutes later, Steve Morris pulled the ball back for Taylor to fire high into the roof of the net and restore Sidley's lead. It didn't last long. Shoreham picked their way through to level again on 79 minutes.
The linesman's flag saved Sidley from falling behind when Shoreham were through on goal but in the 6th minute of injury time, Carl Morris nodded home from a corner to win the game. There was still time for drama in the Sidley box, but the Blues scrambled clear to seal the win.
A quite bizarre game with a 4 - 3 scoreline never on the cards at half time. Positives to take from the game for Sidley, including the points, but still plenty left to work on.
Sidley Team: Willis, Rea, Tuppeney (S Morris), C Morris, Cruikshank, Munday (Agutter), Brand, Barden (White), Taylor, McDonald, Hole.