Blues win again at battling Tackleway
(October 17, 2015)
---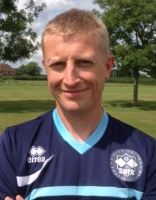 J.C Tackleway 1 - 3 Sidley United - ESFL Division One
Sidley United came from behind to win a battle of a match at J.C Tackleway and make it 6 wins from 6 to stay top of Division One.
The Blues began strongly with the wind advantage in the first half but found a similar problem from last week hampering them - their finishing. Lee Roberts missed two good chances to open the scoring, as firstly he shot straight at the goalkeeper when through one on one and then found the side netting having beaten the last defender. A Gary Hempe free kick was well saved and Arron Scrace was also denied as Sidley were well on top.
But almost predictably, Sidley were made to pay for not taking their chances. On their first breakaway, Tackleway forward Charlie Cornford cut inside full back Ian May and fired the ball high into the net past goalkeeper Joe Rogers to give the home side the lead on 18 minutes.
Sidley were then forced to make a change as Chris Copley was injured in a challenge and after a lengthy stoppage, was replaced by James Bailey. Sidley then got the goal they had threatened on 32 minutes as an Aaron Cochrane corner was nodded in by Ashley Elphick to level the scores.
The remainder of the half saw Blues goalkeeper Rogers was booked as he chased a Tackleway forward out of the area and fouled him some way from goal. Elphick also picked up an injury and had to be replaced by James Godden before the half finished.
Kicking into the wind in the second half, there was a sense that this might actually benefit the Blues and indeed they took the lead on 52 minutes. Excellent work from Roberts and a good pass from Godden fed Bailey, who smashed the ball high into the far corner of the net to give Sidley the lead.
The game then became a little scrappy, instigated by a penalty decision not given to Sidley as Roberts appeared to be hauled down by the last defender but the referee chose not to award the penalty. A few late challenges saw two Tackleway players booked as the game became a real battle and on occasion tempers were frayed.
But Sidley kept their nerve and put the result beyond doubt on 86 minutes. Good control by Cochrane allowed him to play in Bailey down the right. The goalkeeper came out to meet him but Bailey beat him to the ball and poked it back to Simon Corke on the edge of the area, who slammed the ball into the net to seal the win.
The result maintained Sidley's 100% record in the league ahead of a break from league action now. Blues are without a fixture next week before resuming with a cup trip to Partridge Green on the 31st of October.
Sidley Team: Rogers, May, Hempe, Funnell, Copley (Bailey), Carey, Cochrane, Elphick (Godden), Scrace (Sanderson), Corke, Roberts.